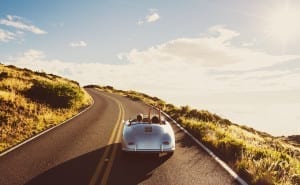 Do you have a vision for aging? Maybe you are like most people and know that aging is inevitable, but don't want to think about it. Some are in denial and even try to fight it.
My hair started turning gray early. I am pretty much fully gray now at almost 54. I recently told someone that I had salt and pepper hair and my wife said, "Not much pepper among the salt." I also had someone even recently suggest I color my hair. But, I am no longer bothered by my gray hair and beard. I actually am learning to embrace it!
One of the big missing pieces of discipleship within the Church has been the lack of equipping in the area of aging. We have not adequately taught or modeled how a follower of Jesus should grow old. Sadly, many believers are handling aging no differently than those who do not have a strong faith.
I had the opportunity this summer to speak at the Summit Aspen event and my title was "Older and Bolder." I talked about Caleb being 85 years old and still ready to go to war against giants. Caleb's words in Joshua 14:11-12 are part of my vision for aging:
"I am still as strong today as I was in the day that Moses sent me; my strength now is as my strength was then, for war and for going and coming. So now give me this hill country of which the Lord spoke on that day, for you heard on that day how the Anakim were there, with great fortified cities. It may be that the Lord will be with me, and I shall drive them out just as the Lord said."
Another key verse for my vision for aging is Deuteronomy 34:7, which states:
"Moses was 120 years old when he died. His eye was undimmed and his vigor unabated."
I do not plan to live 120 years. I am not real concerned honestly in how many more years I have as much as how I am living now and how I will be living when I do finally die. We do not know when we will die, but we do have a say on how we live now and up to when we die. Both Caleb and Moses' vision for aging flowed from lives that had surrendered to God's grand purposes in the world. As they grew older they grew more in their passion for God's grand purposes and surrendered more of their time and resources to those purposes. Is this modeled within the Christian community in America? For both Caleb and Moses as they grew older they grew bolder for God. They did not let their age make them play it safe and comfortable. They kept stepping out in faith and taking risks for the Kingdom. The Deuteronomy passage says that Moses' "eye was undimmed and that his vigor was unabated." I pray this verse regularly, that God would allow me to never have my eyes dimmed or for me never to lose my vigor for His kingdom. Our eyes are windows into our souls. If you have been with dying people or animals their eyes go dim as they come close to death. Sadly, for many their eyes go dim well before they die as a result of a lack of purpose and hope deep in their soul. Jesus says in Matthew 6:22, "The eye is the lamp of the body. So, if your eye is healthy, your whole body will be full of light." It seems that today too often Christians as they age they lose their vigor for God's kingdom and their willingness to step out of comfort for God's grand purposes. Physical aging does take a toll, but we can pray for divine health. It was a promise for the Israelites and in the New Testament we do not see sickness or disease completely sidetracking the early believers from serving the Lord.
Another passage that is part of my vision for aging is Philippians 1:20-21, "…with full courage now as always Christ will be honored in my body, whether by life or by death. For to me to live is Christ, and to die is gain." For Paul his vision of aging was that whether in his life or in his death that Christ would be glorified. Do we think about our death as an opportunity for God to get glory? Do we ask God that we might die for Him? Obviously, not all of us will be martyrs, but we can ask to have our death bring Him glory. But this is a result of living now for His glory. We can't truly see death as gain unless we are learning to live today as Christ.
What do we have to fear? Jesus has conquered death for us! The day we met Jesus was the day we truly started to live and we will never die – for all eternity. So, old folks – why not grow older and bolder? Why not take more risk the older we get? Why not take on bigger giants the older we get? The younger generations are waiting to see us live like this.
4