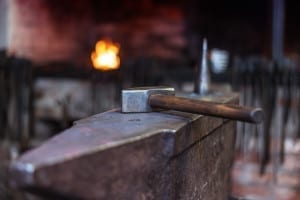 If statistics hold true, the majority of people reading this blog will be women. So ladies, this is for you too. This will encourage you how best to pray for your man or it will give guidance on the kind of man you should be waiting for. Please pass this along to your man.
From the beginning, because of Adam's silence the tendency of man has been to be spiritually passive and to isolate. Passivity misdirects passion and kills intimacy. Most women don't want nor do they need a spiritually passive man. A woman's heart and life needs her husband to be engaged spiritually and emotionally. In the first three chapters of Genesis we can see the spiritual responsibility given to Adam, but instead of stepping into it, he became silent and passive. This tragic event is behind much of our world's problems today. When men become spiritually and emotionally passive they lose the hearts of their wives and children and become passive aggressive or down right abusive. Isolation just feeds into this destructive process.
The Good News is that Jesus came to call us out of isolation and passivity. In Matthew 4:19, Jesus called the disciples to, "Follow me, and I will make you fishers of men." This transformation into what God intends a man to be cannot happen in isolation. It requires men rubbing shoulders together and helping each other forge the man God intends us to become. The lofty biblical idea of manhood has been lost within our culture. It is the community of believers that must restore this for the next generation. Simply put, biblical manhood can be defined as:
M – motivated
A – accountable
N – noble
We need Holy Spirit infused motivation and passion. We need to step out of isolation and into accountability. We need to actively pursue spiritual and character development. Most men desire this, but do not know how to proceed. Most men have never been taught what true manhood is all about. As we move into 2017, we need more than just good intentions.
"Good intentions are worthless if they are not coupled with character development. We don't become whole persons by merely wanting to become whole, by consulting the right prophets, by reading the right book. Intentions must mature into commitments if we are to become persons with definition, with character, with substance." -Eugene Peterson
With the start of a new year, I want to invite you to make a commitment to step into our weekly men's gathering called the Forge. We gather every Wednesday morning at 6:30am in the sanctuary to encourage each other and develop friendships. If you are located mid-valley please contact Dan or Bryant Ragan about joining the Forge Mid-valley. If you are located closer to Glenwood Springs contact Tim O'Keefe for details about Forge Glenwood.
If you are reading this and you are not local, let me encourage you first to find a local church family to step into and belong, serve and give. Secondly, find a men's group within it to join.
Isolation Kills – Community Builds
The battle is raging, are you willing to step in?
Christ's Richest Blessings for 2017,
Steve
2