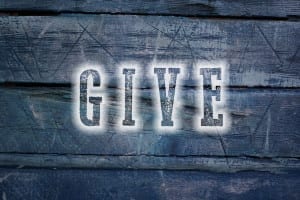 Two of my favorite passages on giving in the New Testament are Luke 6:38 and Acts 20:35. These two passages are incredible promises from God. A lot of people get upset when pastors talk about money. Why? Well there are a lot of reasons, but we have to remember that Jesus talked about money more than heaven! So, let me be clear. We talk about money not because we are trying to raise funds, meet a budget or build an empire. We ultimately talk about money so we can honor God and if we learn to be faithful givers according to God's Word, we will be "More Blessed." So, when believers are not open to  the biblical guidelines of giving they are missing blessing in their own lives. Look at these amazing promises:
Jesus said, "It is more blessed to give than to receive."(Acts 20:35) And in (Luke 6:38) Jesus says, "Give, and it will be given to you. Good measure, pressed down, shaken together, running over, will be put into your lap. For with the measure you use it will be measured back to you."
Our mission statement at Crossroads Church is: Building healthy, Christ-centered people and churches through Connecting, Engaging and Leading with God and one another. Our vision slogan is: A place of Grace, Growth and Greater Things.
Building healthy people requires that we become vessels of giving. Creating an environment of Grace, Growth and Greater Things is not possible without hearts that long to give. If we are going to help fulfill the mission our Lord gave us to make disciples and build the healthiest people possible, we must help people to become great givers. Jesus talked about money in 16 of 38 parables and it is a major theme throughout the Bible. Jesus said that we cannot serve both God and money and that our treasure reveals where our heart is, so it is critical we understand God's view of money and how to handle it.
Here at Crossroads we take the responsibility of stewarding our resources very seriously. We strive to maintain biblical principles of stewardship and mission. We labor to meet the church family's needs both spiritually and physically in building healthy people and families. And we labor to foster kingdom vision in expanding the church's influence in our valley and beyond.
The following Biblical Guidelines for Giving & Blessing (BGGB) are not to be seen as some kind of formula for getting rich nor are they to be some kind of legalistic bondage. They are to be what God intended them to be, which are means of expressing our worship and experiencing blessing through faith in God's promises. God's house, the Body of Christ, should not be in the business of just meeting a budget but stewarding the faithful tithes and offerings of its people. Of course, the Church is to operate by good business practices, but it is not to be driven by business practices but by God's commands and promises.
It is our prayer that you will grow in these biblical practices and therefore grow in experiencing God's abundant overflowing blessings in every area of your life.
BGGB #1: Love God with all our heart, making Him our treasure
"And he said to him, 'You shall love the Lord your God with all your heart and with all your soul and with all your mind." (Matthew 22:37)
"Do not lay up for yourselves treasures on earth, where moth and rust destroy and where thieves break in and steal, but lay up for yourselves treasures in heaven, where neither moth nor rust destroys and where thieves do not break in and steal. For where your treasure is, there your heart will be also." (Matthew 6:19-21)
"No one can serve two masters, for either he will hate the one and love the other, or he will be devoted to the one and despise the other. You cannot serve God and money." (Matthew 6:24)
The most important aspect of our giving is the motive of our heart. Our regular giving to Christ's Body the church and other needs and charities is an intimate part of our spiritual development. Ultimately, we should be growing as givers as our heart grows more in love with Jesus.
BGGB #2: Giving is one of the major tests of our faith
In the book of Malachi, God is directly speaking to the priests and their unwillingness to put God first. God's words to them are a strong word to us today to watch over our hearts and our giving.
"Bring the whole tithe into the storehouse, that there may be food in my house. And thereby put me to the test, says the Lord of hosts, if I will not open the windows of heaven for you and pour down for you a blessing until there is no more need."(Malachi 3:10)
The word tithe in the bible literally means a "tenth" or a "tenth part". And the number 10 in the bible can represent testing. 10 plagues in Egypt, 10 commandments, 10 testings of Israel in the desert, 10 testings of Jacob with Laban, 10 days of testing of Daniel in chapter 1. In the New Testament, 10 virgins had their preparedness tested in Matthew 25, 10 days of testing are mentioned in Revelation 2:10, and 10 days of waiting-testing of the early church in the upper room before Pentecost.
Here is a New Testament promise from Jesus that builds upon the Old Testament principle found in Malachi 3:10: "Give and it will be given to you. Good measure, pressed down, shaken together, running over, will be put into you lap. For with the measure you use it will be measured back to you." (Luke 6:38)
BGGB #3: Giving regularly to our local church family should be a priority
Priority giving for every follower of Jesus should be regular giving to their home church, the storehouse, the Body of Christ. There is a direct connection between our commitment to Christ and our commitment and giving to the Body of Christ. (Acts 2:42-47, 4:29-37)
Tithing is a biblical pattern,therefore a great place to start, which is giving 10% regularly to your local church. "Tithing's stated purpose is 'that you may learn to revere the Lord your God always (Deuteronomy 14:23). Tithing is intended to train people to put God first in their lives."
"…the fact is that every New Testament example of giving goes beyond the tithe. This means that none falls short of it…we are never told that tithing has been superseded, and because Jesus directly affirmed it (Matthew 23:23) and prominent church fathers taught it."
Ultimately, our giving to the Body of Christ as well as to other charities is between us and God. What is important is that our hearts are right with God on the issue. Sometimes, just like with many spiritual disciplines, we have to step out in faithfulness before our heart will follow.
BGGB #4: Growing in grace should make us greater givers
"Being under grace does not mean living by lower standards than the law. Christ systematically addressed such issues as murder, adultery, and the taking of oaths and made it clear that his standards were much higher than those of the Pharisees (Matthew 5:17-48). He never lowered the bar. He always raised it. But he also empowers us by his grace to jump higher than the law demands… But, clearly, most of us need help getting started!…Can tithing be legalistic? Of course. The holy habits of church attendance, prayer, and Bible reading can also degenerate into legalism – but that doesn't make them illegitimate. Anyone who stops going to church, praying, or reading Scripture for fear of being legalistic is approaching the problem from the wrong angle!"
So, as our regular giving moves from duty and discipline to delight our hearts begin to change and are open to give more as we are presented with different needs, ministries and charities.
In (2 Corinthians 8:1-7) Paul describes what this growing in the grace of giving looks like: "We want you to know, brothers, about the grace of God that has been given among the churches of Macedonia, for in a severe test of affliction, their abundance of joy and their extreme poverty have overflowed in a wealth of generosity on their part. For they gave according to their means, as I can testify, and beyond their means, of their own accord, begging us earnestly for the favor of taking part in the relief of the saints – and this, not as we expected, but they gave themselves first to the Lord and then by the will of God to us. Accordingly, we urged Titus that as he had started, so he should complete among you this act of grace. But as you excel in everything – in faith, in speech, in knowledge, in all earnestness, and in our love for you – see that you excel in this act of grace also"
We can see from these verses that Paul highlights the giving hearts of the believers in Macedonia as first giving themselves to the Lord and then to the other giving opportunities that Paul laid before them.
One of the greatest indicators of our faith is how we handle our money. This is why Jesus talked about it so much.
Be More Blessed!
3