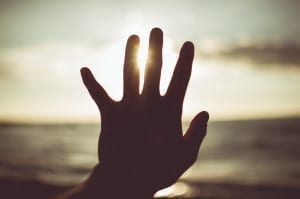 All Christians are familiar with the term "eternal life." But when asked what it actually "is" not much is given beyond the answer that when we die we will be with God forever. This of course is true, but it misses the important reality that "eternal life" is not just an experience for the future when we die, but is a radical reality shift in the present. "Eternal life" as it is communicated in the New Testament is first about a radical relational transformation and secondly, about living in and experiencing this life now. John 17:3, describes this relational shift,
"And this is eternal life, that they know you the only true God, and Jesus Christ whom you have sent."
John 5:24, describes "eternal life" as an experience to be lived in now,
"Truly, truly, I say to you, whoever hears my word and believes him who sent me has eternal life. He does not come into judgment, but has passed from death to life."
So, just what kind of life is this "eternal life" that we are to live in once we come to Jesus? Ephesians 2:10, gives us some insight into what we are to expect by faith in living this new life.
"For we are his workmanship, created in Christ Jesus for good works, which God prepared beforehand, that we should walk in them."
What are these "good works" that we were created by God to walk in? Jesus is our example and we are to look to Him to find insight into what these good works are and how to walk in them. In John 5 Jesus visited the pool of Bethesda where there was a multitude of sick and lame people. On this visit He only healed one man and it happened to be on the Sabbath. This raises all kinds of questions. One would be why did Jesus only heal one person among a multitude? Jesus answers this question in verses 19-20; "So Jesus said to them, 'Truly truly, I say to you, the Son can do nothing of his own accord, but only what he sees the Father doing. For whatever the Father does, that the Son does likewise. For the Father loves the Son and shows him all that he himself is doing. And greater works than these will he show him, so that you may marvel.'"
So, Jesus shows us that the key to walking in "good works" and the key to ministry is hearing the voice of the Father.
But, can we hear the voice of the Father? Can we too know what the Father is doing and walk in that way? Jesus in John 15:15 makes this statement, "No longer do I call you servants, for the servant does not know what his master is doing: but I have called you friends, for all that I have heard from my Father I have made known to you." When we come to Jesus He leads us to the Father and as children of God we are privy to the will and works of the Father. He desires to speak His works – good works – into our hearts that we may walk in them. Walking in the good works of the Father is a supernatural dynamic experience. Jesus says in John 14:12, "Truly, truly I say to you, whoever believes in me will also do the works that I do; and greater works than these will he do, because I am going to the Father."
The key to eternal life is knowing Jesus.
Knowing Jesus is knowing the Father.
Knowing the Father is knowing His will and works.
Knowing the Father's will and works and walking in them is the experience of eternal life now.
2